A CYPHER TECHNOLOGIES COMPANY
Services
We offer in-store and on-site repair services, as well as a "device as a service" leasing program to individuals, businesses, and organizations, providing computers, printers, and whatever equipment you or your business might need to succeed.
Repair
Our Computer Technicians have years of combined experience repairing computers and other devices, and putting together and building custom computers based on your needs. For those needing their own computers repaired, you can bring your system in to be diagnosed by one of our friendly technicians (walk-ins are welcome), and they will take care of it as soon as they can, based on their current workload.
For our lease customers, repair and service of your leased equipment (based on normal usage) is included in your lease agreement, and our techs provide assistance with troubleshooting problems over the phone and remotely via a screen sharing software called TeamViewer. On-site repair is also available at your location, for an additional fee.
Repair and maintenance services include but are not limited to:
Troubleshoot system failures or bugs and provide solutions to restore functionality
Set up hardware for new systems and install/configure software and drivers
Perform standard upgrades to ensure systems remain updated such as adding RAM and backing up & replacing hard drives
Keep detailed records of repairs and fixes on each client's account for future reference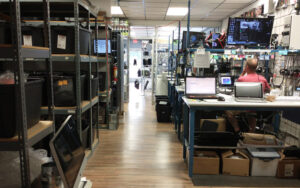 Device As A Service
Many of our customers, including individuals and small businesses, appreciate the ability to lease a computer from us on an ongoing monthly basis, for as long as they need to use the computer (basic maintenance and service, caused by normal usage, is covered by us), rather than purchasing a computer up front. This is not a rent-to-own situation, it is a lease only. Think of it as similar to renting an apartment or house while you need to live in it (where basic maintenance is covered by the landlord), rather than buying a condo or house up front. We sell computers and equipment, and we also lease computers and equipment. Check out a blank lease agreement.
With our Device as a Service lease agreement, you can lease a laptop or desktop from us, including custom builds, at prices starting at $39.98/month. We also offer printers and other equipment for lease if needed. Leases include ongoing remote diagnostics and service by our technicians using TeamViewer software to log into the leased system (password protected each time). There is an extra cost for on-site service (if our technician comes to you), so most lease customers bring their equipment in to us for service if the technicians aren't able to diagnose or take care of it remotely. Lease customers are responsible for any equipment loss, theft, or damage not caused by normal usage. Under this lease agreement, you are also eligible for a full system upgrade every three years, as long as your monthly lease payments are up to date.
We also offer custom lease packages for small businesses, churches, and other organizations, including a discounted labor package (see below). Please contact our store at 269-382-3766 to arrange to speak with the owner, Josh Cypher, about your specific business equipment needs, and for more information.
Business Leases and Labor Contracts
We offer lease packages for local businesses and organizations for equipment such as desktop or laptop workstations, printers, phone systems, and routers. Businesses will be invoiced each month, or they can choose to have a payment card on file for monthly payments. Invoices will always be emailed or mailed to you each month for your records.
Connected with these equipment leases, we provide a labor contract for service on all our leased equipment. If our technicians can remote in to your system and take care of your issue, they will do that using remote software TeamViewer, and if repairs or adjustments or equipment additions or removals need to be done on site at your location, one of our techs will travel to you (travel time is included in billable hours). You are invoiced on a monthly basis for a minimum number of hours per month at a discounted rate, or more if more hours are used, and any unused hours are banked and rolled over for future use.
Please contact our store at 269-382-3766 to arrange to speak with the owner, Josh Cypher, about your specific business equipment needs, and for more information.